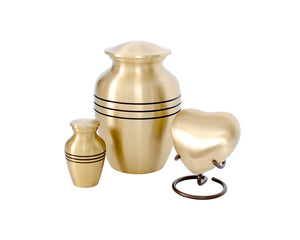 Brush Bronze Urn Complete Set
PLEASE NOTE: Shipments may be delayed due to COVID-19
The Traditional Bronze Urn is made of brass and is individually handcrafted using a sand casting process that is hundreds of years old. The urn is offered in a brushed bronze finish with three black antiqued lines that encircle it with detail. A matching keepsake urn and a heart keepsake are included.
Complete Set includes: Urn, Keepsake and Heart with Stand.
Urn, Keepsake and Heart are also sold separately.
Product Features:
Product Sizes:
Urn: 5.7" x 3.9" - up to 40 Cubic Inches
Keepsake: 2.8" x 1.7" - up to 5 Cubic Inches
Heart: 2.9" x 2.7" - 3 Cubic Inches
---
We Also Recommend