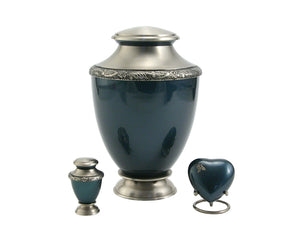 Indigo Urn Complete Set
PLEASE NOTE: Shipments may be delayed due to COVID-19
The Eternity Urn Series features a classic urn design with elegant hand-engraved edging and a delicate metallic luster finish. The main portion of the urn is constructed of aluminum, while the upper portion, lid and base are made of brass.
The Auburn urn is offered in a rich burgundy finish with brass trim. A matching keepsake urn and heart keepsake are available. Heart stand is available.
Complete Set includes: Urn, Keepsake and Heart with Stand.
Urn, Keepsake and Heart are also sold separately.
Product Features:
Made of Brass
Hand Engraved Images
Product Sizes:
Urn: 9.9" x 6.8" - 200 Cubic Inches
Keepsake: 3.0" x 1.7" - up to 5 Cubic Inches
Heart: 2.9" x 2.7" - 3 Cubic Inches
---
We Also Recommend